Curved Folding Origami Design
Curved Folding Origami Design
I am very happy to present you the new book about… yay! curved folding by Jun Mitani that was recently published in English(yay!) by CRC-press. The Curved-Folding Origami design. You can buy it on CRC-press website or at amazon.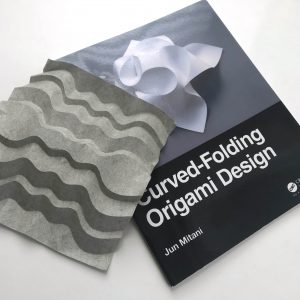 This book was first published in Japanese. Finally we can enjoy the English version! Because the explanation is what we want from tessellation book, right?
Overall
This book will be good for beginning folders and artists/designers who would like to plunge into curved folding origami. By beginning folders I mean both complete beginners or folders who never did curved folding on their own. It is one of the first English books that explains curved folding origami in human understandable language. In my opinion it is the most user-friendly book on the topic now. I would say it should be your first choice if you'd like to explore the fascinating topic of curved folding. It's a must have.
The book aims to be a book about computer-free curved folding. As we all know Jun Mitani is well-known for the  origami software, like Ori-Revo . This book, however is mostly focused around techniques that are repeatable by beginner users even without using any software. It is doable using stencils and burnisher and easy geometry. And this is a very good news for beginners or for the people who are not as comfortable with software.
It also encourages you to try free folding. It's not a secret for ones who tried and a HUGE secret for those who never tried … that some easy curved folding models can be created by simply free-folding. I hope now, with this book, it becomes obvious, that trying is the best possible practice to lead you to wonderful discoveries.
For beginners
The Prologue has very detailed explanations of easy things (like what is Crease pattern). This makes it good and suitable for complete beginners or people out of our small and geeky origami world. It's actually very hard to explain obvious to experienced folders things to the people who never tried folding or curved folding.
Multiple detailed pictures lead you through the process of design. Each next picture adds little more complexity to the design. I think it's a good way to explain how designer mind works. And how you could possibly design something yourself (gradually adding complexity). I believe such a practice is the key to becoming creative in this direction. The complexity increases gradually over the course of the book.
All explanations in the book (except for small sections of theory) do not require any math background for understanding. Many things are explained with just mirroring, spacing, repeating and other techniques understandable to everyone.
For advanced folders
I think it would be interested to experienced folders too. It describes multiple techniques you could add to your own designs! And some intuitive explanation about why these techniques work.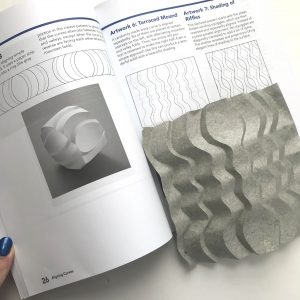 People always ask me how to design curved-fold origami tessellations. It's fairly straightforward, but at the same time careful explanation takes time. Chapters 2 and 3 are about how you create repeating patterns with curves. So far Jun Mitani is the only person who went into touching curved tessellations topic. Here are some images from the tessellation chapters and my own quick fold of Jun's design.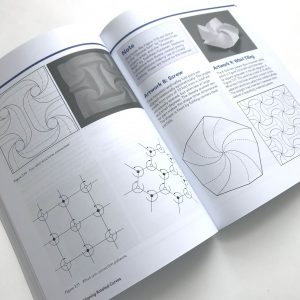 If you want more theory
There are theory sections included in the book. They are not big. If you want even more details, it's worth looking at Jun Mitani's previous book 3D Origami Art, that has more focus on calculating certain curves.
More advanced reading
If you want even more theory and are ready to get some headache, you can certainly search for OSME conference proceedings. They do contain some articles on curved-folding. But those are mostly scientific papers! So they would require certain background from you!  They are also little more focusing on proving certain things, rather than explaining practical methods.
Bonus
If you read till this point, I have some very good news for you! Jun Mitani uploaded some of the CPs to his page and you can download origami crease patterns  in printable form! Which is especially good news for people who use any kind of pre-scoring origami equipment.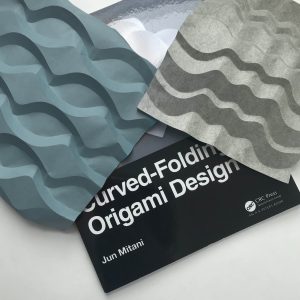 As a conclusion I am very happy we have it available in English!