Origami exhibition: Unfolding the Universe.
Origami exhibition: Unfolding the Universe.
I just wanted to leave a quick note about the origami exhibition in Washington D.C.. You can visit it right now. Japan Information and Culture Center hosts the exhibition called "Unfolding the Universe: Math & Science in Origami". It is open from September 5th to October 27. The origami exhibition is related to World Origami Days and covers the geometrical aspects of origami. The items are mostly tessellations and modulars. My favorite topics…
Here are my tessellations that I've sent to this exhibition. This time I submitted only frames.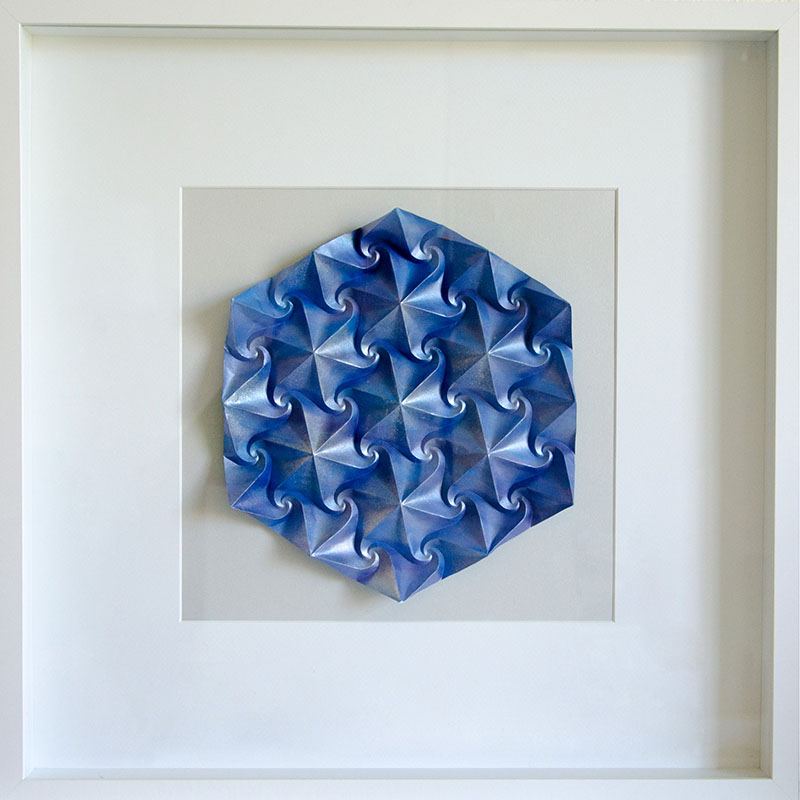 This blue curvy origami tessellation (Mermaid) has it's little story. I specially painted the paper for it, folded it from a big sheet and it came out so beautiful that I immediately framed it in a big frame. It only spent about a week in my house, since immediately after framing it, I got an invitation to the origami exhibition. There's something symbolic about it, I feel. It just wanted to see the world.
Other little info about this piece: it was my first experience of shipping the huge frame. I was pretty surprised, since FedEx already has options specially for transporting frames. It's a special smart box for a frame that holds your picture. I am really happy about that. I would never imagine it was so easy.
Here's the link to all the pictures from an exhibition . I like that the images are organized the way you can figure out the authors of the artwork and get some basic information about them.
If you are somewhere around Washington D.C. (1150 18th Street NW, Suite 100 | Washington, D.C.), be sure to visit it before October 27th. There's a very good selection of geometric origami that you can see with your own eyes.
Special thanks to Patsy Wang-Iverson, Iwai Atsushi and Rolle Michala for organizing this event.